When one finds one's work being used by someone without permission, much less payment, there are some things to be done besides just swearing about it. Before doing anything regarding the infringer, especially before contacting it, do the most important thing: collect all the evidence.
If your work is appearing in print someplace, or in 3 dimensions (depending on your art), take copious photographs of it. Try to get close-ups and photos of the context (in a bank, on a billboard, etc.).
If, say, the work appears on a product, note the store where it is being sold and ask the manager for the name and contact information of the supplier, if it's not a company you recognize. You can also buy example products (or publications) bearing your work, if that is an option.
Online? Make screenshots. Get the whole page if possible (try an app like Paparazzi) and also try to get a screenshot showing as much of the URL as possible while also capturing the infringing use. When you do that, however, make sure to hide your favorites and close all other tabs–you want a clean example of the infringement[1].
Got the shots of the work on the public-facing pages of the site? Great, now find it on their servers. In Safari, go under Develop>Show Web Inspector and you'll see a folder called Images. Here, I have a screenshot looking at this site that way where I've ID'ed a photo of the La Jolla post office I made (selected in the screenshot below):

Double-click that highlighted icon and it will open the link to the work as it appears on the infringer's server (here, on my server). Get screenshots of that as well and note the URL(s).
Okay, now do you use metadata in your images? Please say you do. If so, then check the metadata on the infringing photograph–see what has/has not been deleted or altered. Preserve that evidence as well (make pdfs of the results, for example).
Finally, for web-related infringements, preserve the infringement on the Wayback Machine at archive.org. You do that by checking to see if the page is there already (and do this for the front-facing pages and the server pages); if it's not, then you'll see that you can add it. Here is what I got when I put in the URL for the server page holding my post office photo, for example: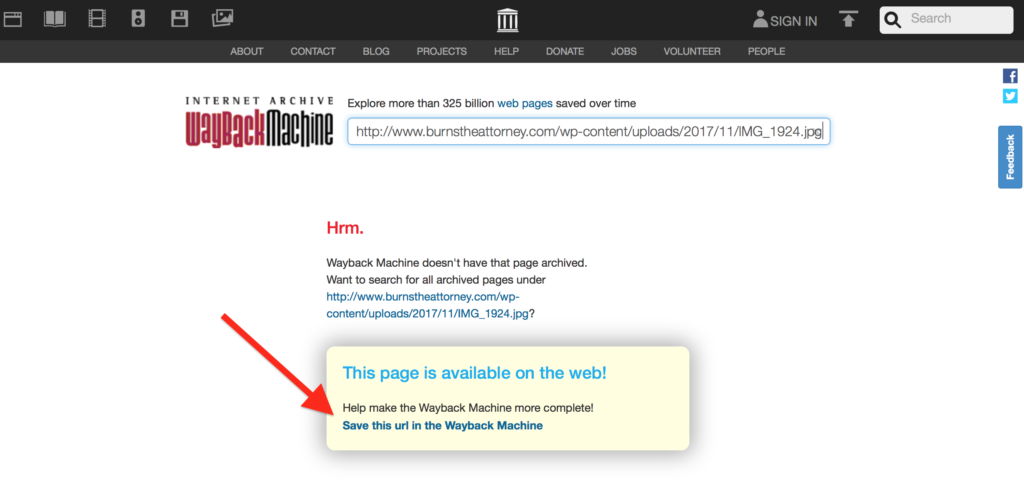 Once you've done all that you need to find, in your own records, your copyright registration for the work and copies of your deposit copies. If it's not registered and it is still within three calendar months of your first publication of the work[2], register it immediately[3]! Also note where you have licensed the work to be used and where you have published the work yourself (exact URLs for everything–not just "on my site"). Basically, think of every place that your opposition may have found the work and note the URLs.
Put all of the above into a folder for that infringement, before you do anything like contacting the infringer.
Yes, this all is some work, but evidence is so important that it is totally worth it. I can't begin to tell you how many times someone has contacted me with what sounds like a great case but, because s/he hasn't preserved evidence of the infringement, there is noting that I can do for her/him. I may know it is an infringement, but if I can't prove it, there is nothing I can do for you.
So, once you have all the evidence, then you can decide what to do about the infringement itself. In my next post, I'll talk about your choices.
_______
[1] No reason to give anyone any personal data accidentally, like that you also were looking at porn or something (yes, this happens).
[2] Remember that "publication" has a different meaning under copyright law here so if you offered it to a client for its use, even if it wasn't used, then it is published. Also, posting the work on a site where you say, basically, "you can license this work" is publishing. However, just because you posted it on your portfolio site (no offer to license) does not make it published. If you aren't sure, ask a copyright lawyer, not your creative buddies, for advice.
[3] If it is too late, then your options are limited for how you approach the infringement, since your remedies are limited, but it still may be worth pursuing.